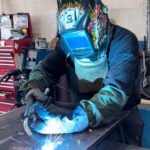 We are an industry leader in welding, machining and fabricating. We are looking to hire an experienced Welder/Fabricator for the hours of 7:00am to 3:30pm Monday through Friday, with overtime as required. We offer a competitive hourly wage, benefits and a bright, clean environment with updated welding equipment.
Our ultra clean, highly illuminated, family-owned shop REWARDS employees who consistently improve job skills and efficiency with top area rates and bonuses as an act of appreciation for such. Outfitted with the latest technology in machines and tools, we are equipped to meet the challenge of most jobs with efficiency, quality and pride. Most of our work is short run, interesting and fulfilling. If you are ready to work in a "Top Shop", be inspired and appreciated, APPLY TODAY.
Summary:
Creates or repairs high quality products based on customers' requests, drawings and illustrations using MIG and TIG Welding methods.
Essential Duties, Responsibilities and Skills:
Proficient in MIG and TIG Welding methods as it relates to its intended purpose, quality and appearance.
Must know how to use and read Calipers.
Must be able to read and interpret Job Prints/Drawings.
Maintain a clean work area.
Observe Safety Rules
Fabricators must be able to build Machinery Frames or Skeletons of highly accurate specialty machinery using structural tubing, angle or channel.
Must be honest and trustworthy in all endeavors.
Education and Experience Requirements:
High School or GED Required
3-5 years experience with MIG and TIG preferred but may consider applicant with less.